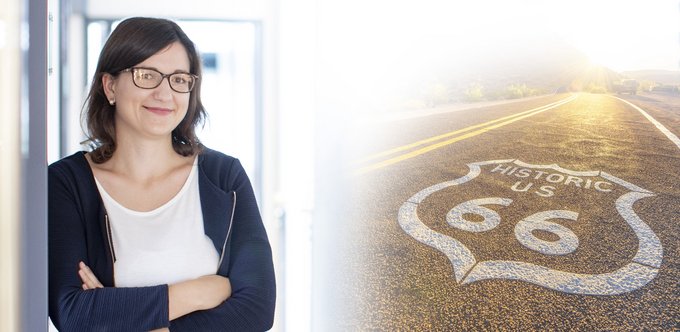 Katharina
HR Partner
VESCON Group
A weak spot for horse power.
Pssst, a little tip for all applicants: Anyone who wants to shine in the interview with Katharina also in small talk, should pick up a few motorcycle magazines in a advance. Because in her spare time Katharina likes to take a lap on her BMW – sometimes even up to the North Cape (Norway).
Relaxation sets in just after the first few kilometres. When Katharina comes home at the end of a long working week, she simply swaps blazers for dungarees, hops on her bike and leaves the stress behind – in the truest sense of the word. "The journey is the reward," says the 29-year-old, "you ride a motorcycle to get to yourself." Unfortunately, there isn't always time for that in everyday life, but every now and then there is a bigger exit. Just like her tour to the North Cape and back, or her trip through the United States, which took her from Orlando to Los Angeles, of course in style on a bubbling Harley.
When Katharina is not following the trail of Easy Riders, she takes care of recruiting and applicant management at VESCON. This includes, for example, advertising vacancies, conducting job interviews and organising introductory events for new employees. Before joining VESCON in July 2017, Katharina worked for a large international software company. The decision to work for a medium-sized company was a conscious one: "I was looking for an environment with flatter hierarchies in which I could get more involved. Here you can take things into your own hands and get the ball rolling, that suits me very well." There was another point that played an important role: "Whether flexible working time models or fitness offers, it's easy to see that VESCON employees are valued."
So when's the next big tour? "If it were up to me, straight away. If it were up to Ivy, I can take my time." Ivy is Katharina's Australian Shepherd, with whom she travels a lot in nature and also participates in dog sport tournaments. Of course, Ivy is also there when Katharina goes rodeo riding once a week, a sport in which she was even state champion in Baden-Württemberg as a teenager. You could google that on your way to the interview ;-)