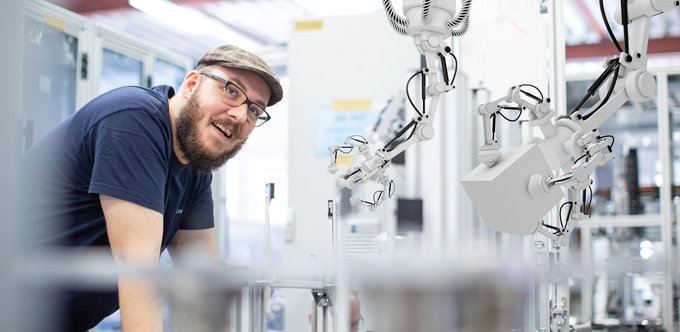 Wolfgang
SPS Programming
VESCON Systemtechnik
Riding on the razor's edge.
The razor is Wolfgang's most important tool. This of course means "Ockham's razor", a principle that plays an important role in programming programmable logic controllers (PLCs). Anything else wouldn't make any sense, logically!
"Ockham's razor" is a scientific method for evaluating solutions named after William of Ockham. In essence, the simplest solution is usually the best. This is a very good decision-making aid for developing and expanding PLCs, with which Wolfgang succeeds in developing systems that are simple and efficient.
"This always involves logical decisions," explains Wolfgang. "When I develop a control system for a machine line, I have to think about how the system changes when it receives new information. For example by pressing a button or automatically via sensors. This means I have to make decisions so that the system can later make its own decisions, the right ones, logically."
The decision for VESCON was also logical for Wolfgang. After ten years of working for an Upper Bavarian special machine manufacturer and six years of long-distance relationships, it was time to make a change, both privately and professionally. And also here the simplest solution was the best, namely to move to Gleisdorf with his girlfriend and continue his career at VESCON. Sometimes the easiest decision is one that makes you happy.
Now and then Wolfgang is also happy when he doesn't have to make any decisions at all. For example, when he doesn't have to choose between working in the office and in the workshop. Because his job as a PLC programmer offers both and variety is simply the best, logically!