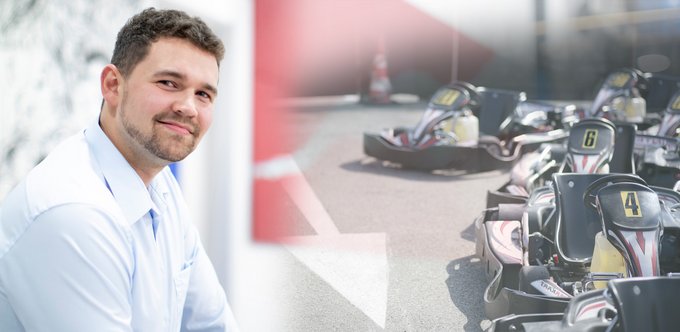 Jens
CAD / CAE Construction
VESCON Automation
Jumping into the shallow end.
Taking over the management of a major project as a career starter? After his cooperative study programme and a short training period, Jens accepted the challenge. But he didn't feel that was a jump into the deep end – quite the opposite.
When Jens is asked why he opted for a cooperative study programme in 2012, the first thing he sees is the keyword practical relevance. "I didn't just want to study, I wanted to get started as soon as possible." And that's what he did in the electrical engineering course – and especially in the practical phases at VESCON. "I was right in the middle of it from the start and learned a lot from my colleagues. After a short time I felt like part of the team and worked on my own tasks. The first big project that I took on as a project manager shortly after graduating was another big leap. But here, too, my colleagues supported me and specifically trained me, so that everything ran smoothly."
What about today? As a CAD/CAE designer, Jens takes care of the hardware design, for example for automation systems in the automotive industry. "Depending on the project, I also take over the electrical engineering project management, that means, I then coordinate the switch cabinet construction, installation and commissioning right through to final inspection.
There's never a dull moment on the job. So was the cooperative study programme with VESCON the right decision? "Absolutely. The tasks are varied and I am in a close-knit team. We get along extremely well, which is not only noticeable at work." This refers to the joint activities that Jens and his colleagues meet for regularly after work or on weekends. The 'VESCON Team' has already tried a lot, from go-karting to football golf to a trip to the climbing park. "We spend a lot of time together at work, so it's nice to get to know each other a little better away from projects."
So for Jens his way was worth it. Would he recommend VESCON and the cooperative study programme to others, and if so, what does he think you need to bring with you? "I absolutely recommend it. If you are enthusiastic about technology, want to learn quickly, show initiative and want an excellent working environment, you've come to the right place. And if she or he comes to the go-kart track or to the climbing course – welcome to the team!"