You energise your customers.
We energise your know-how.
For energy supply companies and grid operators, two factors are most important: Reliability and cost-effectiveness. VESCON offers both from a single source – thanks to many years of experience and distinctive technological expertise.
In addition, we identify the specific requirements that affect the sector. We know all the relevant laws, requirements and regulations in detail and are always up-to-date in terms of occupational safety and environmental protection. And of course, we also know how important it is to meet deadlines.
The challenges associated with the Energy Transition shift constantly as it progresses. We are prepared for these dynamic changes and are meeting every challenge in our typical way: By systematically strengthening our team, by continuously qualifying each individual employee and by building up knowledge that will help our customers move forward.
---
Substation Wilster-West: A million-euro project as the core of the German energy transformation center.
| | | |
| --- | --- | --- |
| Task: | | Complete electrical installation for TenneT at the substation Wilster-West |
| Department: | | Construction & Assembly | Primary Planning & Documentation | Testing & Commissioning |
| Business: | | Energy supply |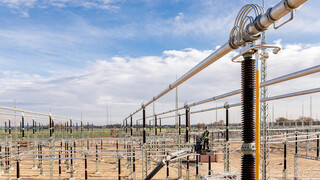 For the renewal of the existing 380kV switchgear at the substation Wilster-West, our long-standing client TenneT TSO GmbH has commissioned VESCON Energy with the entire electrical installation for the project. Project targets:
Expansion of the transformation station for the feed-in of renewable energies
Receiving and Distribution of the future transmission capacity of NordLink, SuedLink, the West Coastline, the central axis and the offshore connections in the North Sea
Services provided by VESCON Energy:
VESCON Energy initially planned the primary technology and provisional arrangements for the primary technical construction of the high and maximum voltage stations. In the secondary technical expansion, it carried out cabling work as well as the installation and connection of all control, protection and general plant components such as auxiliary power and transmission technology. A 380kV switchgear with a triple busbar, designed for up to 8,000A, was installed. The new switchgear covers an area of 18 hectares, which is the same as 25 football pitches. VESCON Energy rebuilt the plant and created the connection to the distribution network of SH-Netz with two large transformers.
A solution for every scenario:
The biggest challenge in the implementation of the project has been the continuous operation of the existing plant which was already an important north-south junction. The new construction therefore had to take place without any significant interruption of the north-south connections. Consequently, VESCON Energy initially installed several 380kV temporary installations to ensure operations without almost any interruption.
After a total construction period of 4 years, the new substation Wilster-West was commissioned by TenneT at the beginning of October 2020.
Technical project data:
380kV switchgear with 31 bays including triple busbar
2x 380kV coupling bays
8x 380kV line bays
2x 380kV cable bays
3x 380kV transformer bays
2x 380/110/30kV transformers
1x 380/20kV transformer
4 bays double 110kV busbar