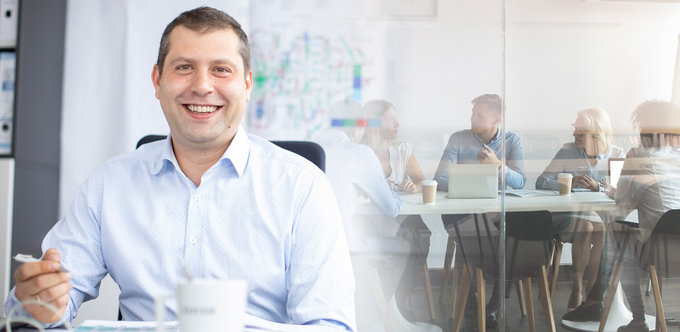 Ilias
SPS Team Coordinator
VESCON Automation
Lord of the Rings.
Ilias basically does nothing other than program the automotive future. With countless codes, he breathes life into the machines and robots used in body shell construction and works with his team to ensure that the carmaker with the four rings doesn't slow down when it comes to automation. Professionally he breathes Audi and car, but when playing with his children, Ilias sometimes shifts down a gear.
Automation is making giant strides, product cycles are getting shorter and shorter, and cost pressure is growing. Flexibility and efficiency are becoming increasingly important particularly in the automotive industry, and thus also for the smart PLC programmer and team coordinator for Audi projects at the Eching site. Before Ilias took over coordination of the Audi team, he was already significantly involved in the projects for the BMW account. So when it comes to programmable logic control systems, nobody can fool him so quickly.
"It's more fun to work with dedicated people, especially when things get a little more hectic," he says with a wink. In this spirit, he coordinates his programmers, communicates with customers on all technical issues and takes care of the most diverse body shell systems in the automotive industry, right through to commissioning. In addition to his determination, the caring family man always comes through in Ilias, where teamwork comes first.
The fact that the native Russian likes VESCON also shows that he has returned to his preferred place of work in Eching after a short break. "On the one hand, VESCON is a relatively large company with exciting customers; on the other hand, the relationship with colleagues is very familiar as in a smaller company. It's a combination you won't find everywhere."