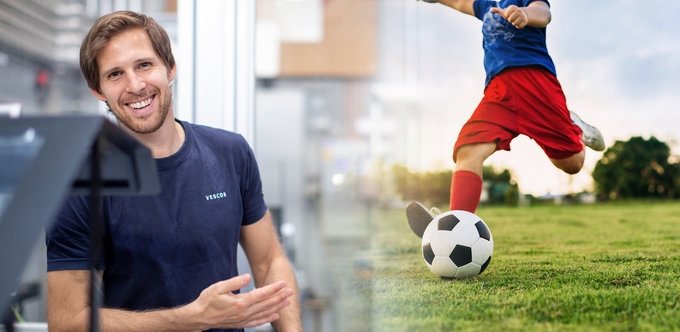 Thomas
Electrical Installation and Switch Cabinet Construction
VESCON Systemtechnik
The team player.
In installation and switch cabinet construction, it's a bit like football: You have to think the next "moves" ahead and need the right tactics to turn innumerable individual parts into a finished system. And just like on the pitch, the team plays a decisive role here as well. That's the passionate amateur football player Thomas Kollmann's up of tea. Because he is not only a real team player on the grass.
To the untrained eye, the many wires, boxes, sensors and plugs are an incomprehensible mess. Thomas, on the other hand, already sees the finished system before his eyes. Now all that remains is to turn this idea into reality. No problem for Thomas and his colleagues, because as a team they are up for any challenge: "The cohesion between the team here is great. No matter what comes our way, it's simply fun to work with the colleagues. I've never experienced it like this in a company before."
Thomas also joined VESCON through the team. One of Thomas' colleagues who also happens to be a close friend, drew his attention to a vacancy. And since VESCON is also from Gleisdorf, like Thomas, the matter was settled. After all, players love lining up to play for the home team. Thomas quickly realised straight away that his decision was the right one, "I was able to contribute my own ideas right from the start. You're not just some number like in other companies."
When a system is finally installed and the customer is satisfied, Thomas and his colleagues are also satisfied. Another match they were able to decide in their favour. Thanks to flexible working hours, he can now take care of his hobbies like hiking and eating, for instance. And afterwards? Maybe train a bit more on the football pitch – the next match will come for sure.