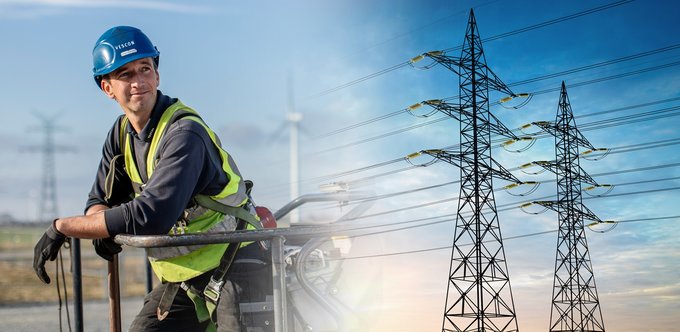 Sven
Senior Fitter Primary Technology
VESCON Energy
The future builder.
The energy revolution is in everyone's mouths. But who actually ensures that this plan will truly succeed? t is people like Sven from VESCON Energy who are responsible for the expansion and upgrading of substations and power grids on construction sites throughout the country. Because after all, sustainably generated electricity alone is not enough. It also has to get to where it's needed.
"If you keep in mind what depends on our work here, the whole thing is of course every electrifying – even before there's electricity on it at all," says Sven with a wink. "And until the electricity finally does flow, we won't get bored here either – quite the opposite." Of course because working on high-voltage systems, switchgear panels and the like requires maximum concentration and a great deal of coordination – from the allocation of employees on site to permanent agreements with project and construction managers to checking of incoming goods and repeat orders. This makes teamwork all the more important: "Everyone has to be able to rely on each other, everyone has to pull together."
Sven enjoys his work even when things can get a little more stressful: "We have very good equipment, we're out in the fresh air all day, and I can organise my work on my own." The fact that he wears the VESCON logo on his helmet also plays a role for him: "We have built up a very good reputation in the industry over many years. "Of course, I'm proud to be part of this group."
After four days of work on the construction site, Sven has three days off, which he prefers to spend with his family. "This model suits me very well because even if the work is fun, I still want to spend as much time as possible with my wife and children." Just unwind – that's also very important for the energy revolution.