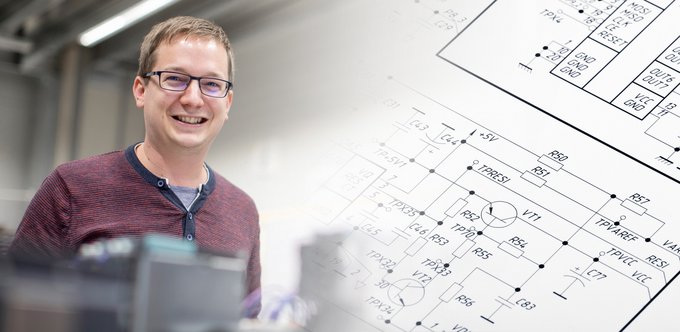 Manuel
Electrical Planning
VESCON Systemtechnik
Everything's in flow.
When the designers at VESCON Systemtechnik have devised a new system – what can it do? First of all, not much. Because only those people who know how their blood vessels – the electrical wires – have to run can breathe life into the machines in the end. That's why VESCON has people like Manuel Zupcic for this.
No two systems are the same," says Manuel, "and it is exactly this variety that he loves so much. After all, this is synonymous with the fact that things never get boring when it comes to creating electrical diagrams. A task that usually begins with a handover meeting with colleagues from the Design department. Equipped with all 3D data and customer specifications such as specifications and quotations, Manuel then gets to work on his work that offers new impulses.
Armed with electrotechnical knowledge, precision and the ability to work in a team, the task now is to get the entire electrical planning on its feet. This includes, for example, the overall and detailed layouts of the systems that Manuel creates with the SO3 software developed by VESCON. In addition, he takes care of the control cabinet layout plans as well as the entire electrical documentation. In theory, what should flow can now flow. In practice, the complete electrical plan is then sent to the colleagues in the Electrical installation and PLC departments who implement it.
It may sound a little dry to outsiders, but it's not. On the contrary, and of course fun at work also goes along with it. And Manuel has that with his colleagues. The overall team moral is very good, which is also shown by the fact that people like to ring in the evening with a cold drink together. Every now and then something else other than electricity has to flow ...