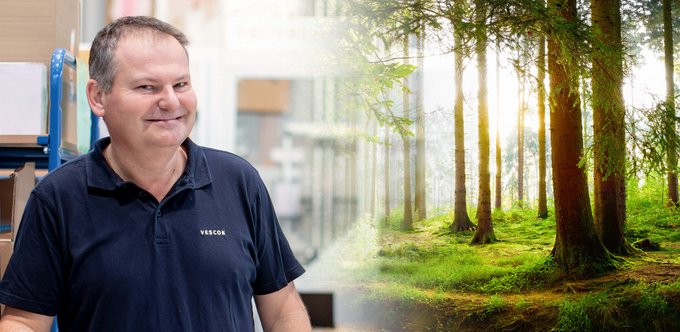 Erich
Purchasing and Logistics
VESCON Systemtechnik
The conductor in the background.
Assembly has been running smoothly since the beginning of the shift; all parts are exactly where they need to be in order to complete the job on time. When it comes to special machine construction in Gleisdorf, Erich plays a central role. Routine, so to speak, for the conscientious part-time farmer who at most tends to compare apples and oranges on his own orchard.
Like a conductor, Erich brings together the flows of goods and parts, which arrive at the Receiving department in different cycles, into one harmonious ensemble. He conscientiously checks incoming goods and then synchronises it with the operating schedule. The individual parts are distributed to parts trays and pallets for assembly precisely as ordered – no problem for someone like Erich who enjoys working with numbers.
The Goods Issue department is also buzzing, as the deliveries for loading the trucks are put together there at the same time. A brief intermezzo during the silence of the warehouse shows his examining gaze what needs to be reordered. And if it comes to the back posting of parts or to stocks, Erich is also on the spot.
All this must satisfy Erich's sense of accuracy. Likewise, no interpersonal dissonances should creep in because the team player also likes things harmonious when dealing with colleagues – somehow he can simply work with everyone. Privately, the family man likes to indulge in a completely different pace when riding an e-bike or hiking. Just let yourself go – that's what Erich prefers to do during his regular visits to the thermal baths.