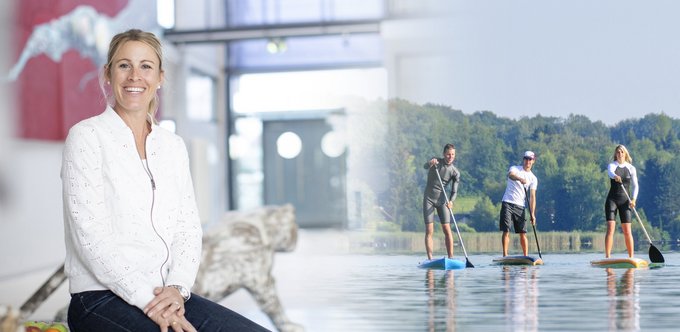 Nina
Fitness Trainer
VESCON Group
Advertising that works.
A healthy mind lives in a healthy body – Nina is the best example of this. The certified sports and health trainer, who is part of the team of the VESCON Health Initiative Vitamin V, always has a smile on her lips. With her zest for life and her infectious optimism, she is not only an extremely likeable colleague,but also the best advertisement for vitamin V. In order not to say: advertising that works
When Nina started at VESCON, some were still sceptical. An in-house sports and health trainer? Exercise and relaxation offers But it quickly became clear that Vitamin V had hit a nerve. More and more colleagues took part in the events and more and more offers were added. "For a medium-sized company like VESCON to start such a health initiative and hire someone like me for it is not a matter of course," explains Nina. "But it's been worth it, Vitamin V is now very popular, most events are fully booked."
And that means Nina has her hands full at VESCON. Because not only does she organises the events but also develops new offers together with her team. "We are in constant dialogue with our employees and try to consider as many wishes as possible." In the course of time, we have developed a wide range of offers – from 'exercise lunch breaks' to anti-stress courses and nutrition advice.
Like we said, Nina probably contributes a lot to the fact that Vitamin V is so popular with her personality because she simply lives what she preaches. Even in her free time too, by the way, when she likes to do stand-up paddling at a lake together with her friends and family. "We already offered that through Vitamin V," she adds with a twinkle in her eye. And guess what? The event was of course fully booked. That's the way it is with advertising that works.