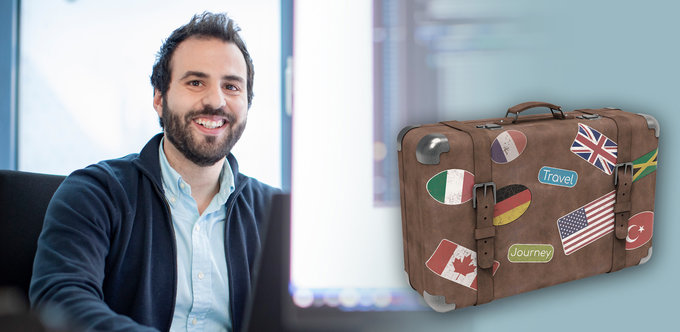 Mostafa
Software Development
VESCON Software
Discovering new things is part of the program.
You don't have to be Japanese to love Heidelberg. Mostafa is the best proof of that. The native Egyptian completed his master's degree in Heidelberg and fell in love immortally with the romantic city on the Neckar River. This is the place from where he also discovered the most diverse regions of Germany and became a big fan of the country.
Mostafa barely had his bachelor's degree in Cairo in his pocket when he came to Heidelberg in 2014 to top off his studies with a master's degree in computer science. After a brief intermezzo in Düsseldorf, where he wrote his thesis and fell for carnival, he moved from the Rhine back to the Neckar. There, one of his professors drew his attention to VESCON and so his path "took him to" Frankenthal in the beautiful Palatinate region.
At VESCON, Mostafa is part of the SO3 software development team. After a brief induction period, he now enjoys implementing new features in the planning tool for system and automation technology. Not only does his job require skills as a programmer but also a lot of creativity. And that is in Mostafa's blood. No wonder he loves the regular hackathons, where the whole team meets to try out new things and develop creative solutions away from the job.
Speaking of teamplayer: Mostafa is an open-minded guy even in his spare time who likes to combine his passion for travelling with meeting new people. He has found many friends in his favourite holiday destination of Portugal, whom he visits again and again. The same goes for Rome, which fascinates him particularly because of its omnipresent history. Of course, he is always drawn back to his home country Egypt, where his girlfriend and family are waiting. "For a Travel Addict like me, an employer like VESCON is of course ideal. Without the flexible work time models, it would not always be as easy to give in to my wanderlust and discover new things".