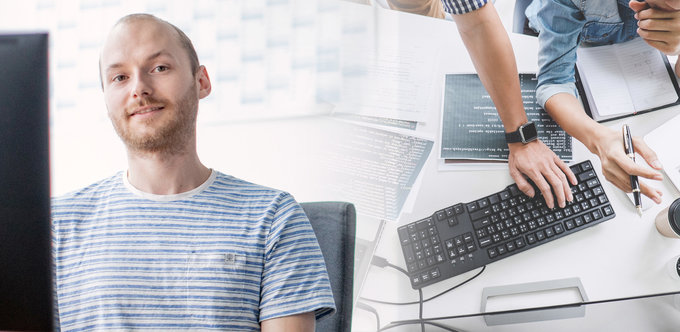 Martin
Software Development
VESCON Software
Home-grown.
Spend your entire career at a single employer? What used to be quite common is now the exception. All the happier is as an employer to have employees like Martin. Although he is still in the beginning of his professional career, he has spent his entire career at VESCON so far. Not bad conditions for a common future.
"You stay longer where you feel comfortable," Martin sums up his connection to VESCON. He speaks from experience, because he already completed his pre-study internship and then his bachelor's degree as a software developer with VESCON at the Duale Hochschule in Mannheim. As sporting and ambitious as he is, this was by no means the end of the story for Martin.
After only six months as a software developer, he started the Cooperative Master's programme in Computer Science at the Darmstadt University of Applied Sciences, again with VESCON as a practical company. The course lasted a total of six semesters, with theoretical phases at the university alternating with practical phases in the company. This combination makes the training particularly thorough, and what has been learned can be immediately applied and deepened in real projects.
Martin has not regretted this loyalty, which has become rare in this day and age – quite the opposite: "The challenging projects on the one hand and the working environment in which I can work independently are what impressed me right from the start. Here I can develop in a way my strengths will let me, you won't find that everywhere." And that is why the team can not only look forward to an experienced software developer but also to a true home-grown colleague. On which the common future continues to grow and prosper!