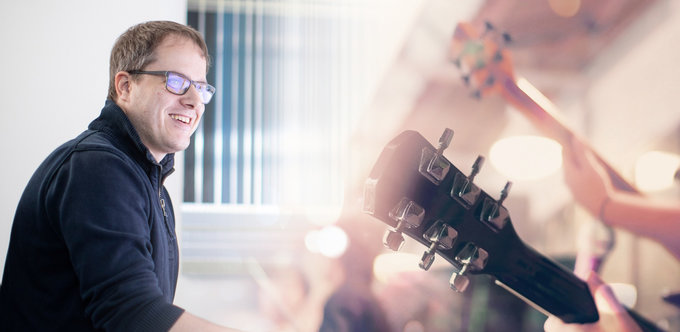 Johannes
Software Development
VESCON Software
C major or C# ? Preferably both.
The beginning is the most difficult – when you're in, then your fingers flit almost by themselves into position. And then everything builds up bit by bit. No matter if you strike keys or strings, no matter if attribute or a chord, if code or music – the beginning is the most difficult. But for Johannes this is exactly what is so exciting – as a software developer at VESCON and as a passionate electric guitarist in his spare time.
"The job as a programmer is very demanding, which is definitely positive," says Johannes winking. "I started at VESCON because I love the challenge as a C# programmer. These days, software is everywhere. Soon there will no longer be a device or tool that is not also a small computer and therefore also needs programs to function. And somebody has to write this software too."
That may sound as if Johannes has to do it all by himself. But the days when a lonely programmer had to do everything on their own are long gone. Today everything is teamwork and in keeping with this spirit, the VESCON programming team meets regularly for "Dojos" or "Hackathons". "It's kind of like a jam session with a band. We meet up, try out new ideas, discuss but above all we do one thing: code, code and code. Together it's a lot of fun and when it's over, you've learned something new again."
After such developer marathons Johannes also needs a change. He prefers to switch from the keys to the strings, make some noise with his electric guitar and clear his mind. Because the next challenge as a programmer is certain to come – and Johannes is already looking forward to it.