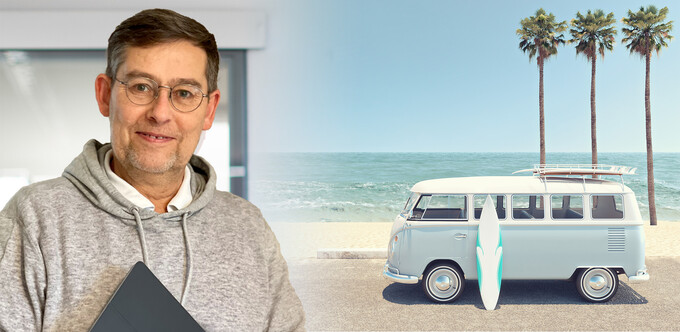 Christian
Project Manager
VESCON Automation
The tour guide
Whether it's a city break, a skiing holiday or a trip to his favourite holiday destination Dalmatia: in his spare time, travelling with friends and family is one of Christian's passions. Planning a trip is like a project to be mastered. There are various possibilities and solutions to choose from: Who should be involved in the trip, where should it go and when should it take place? Christian does not only face these questions privately.
As a project manager at VESCON in the field of intralogistics, he is involved in planning projects, assembling teams and defining schedules. He also accompanies this "journey" as manager during the subsequent realisation, monitoring, controlling up to the project conclusion. The challenges involved are no problem for Christian: As reliable and curious as he is in his hobby, as persistent and willing to learn he is in his work in the project business.
It is not only in his spare time or in the course of project business that Christian has already embarked on major journeys. His own journey at VESCON started as a hardware designer. The journey took him further through site management to quality management at the Eching site and project management, which he currently performs exclusively. This trip was more than worth it for him.
Since then, Christian has appreciated the varied activities with flexible working hours and the great mutual appreciation between the employees: "In addition to a portion of tenacity, the ability to work in a team is very important in this area. I enjoy working with team-oriented and solution-oriented colleagues who also bring new impulses to the table."