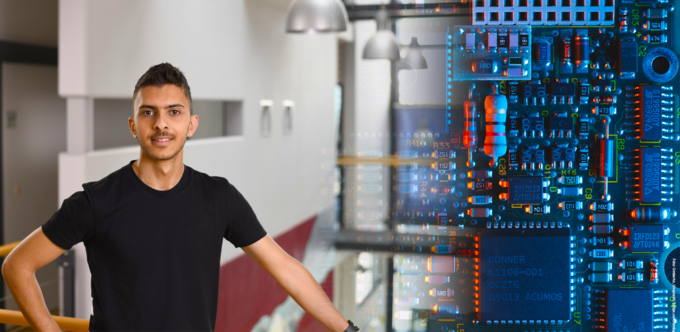 Bashar
Apprentice in Systems Integration
VESCON GmbH
When a hobby becomes a profession.
Bashar began his training at VESCON on April 1st, 2019, but it certainly was not an April Fool's hoax. Bashar takes his education very seriously. Computers are his hobby and in his free time he works on different IT projects. At VESCON, he has converted his hobby into his profession.
A company can't do better than to have an apprentice like Bashar, since he did not want to complete just any kind of traineeship. He wanted to pursue his passion and learn as much as possible in the process. Therefore, he did a lot of research about VESCON and the professional opportunities the company offers before applying. Bashar was especially drawn to the dynamic development, which VESCON has undergone in the past few years and the fact that the environment among colleagues has remained very familial, nonetheless.

So far he has no regrets about his decision for VESCON, quite the contrary. Bashar was able to apply his know-how right from the start and learned a great deal in just a few months. Currently, he is working in the IT support team and is responsible for the setup and maintenance of all IT systems. Colleagues turn to him when their computers, tablets or mobile phones aren't working as they should.

Anyone who turns their hobby into their profession, can count on their job being their hobby. This is also the case for Bashar, who enjoys searching the Internet for new IT developments and gadgets in his free time. Once in a while he does "go offline", in order to turn to his other hobbies. He enjoys, for example, a trip into the mountains with his friends. Up to the top as a team – a motto which Bashar also applies to his job.